Addleshaw Goddard Key Client Case Study
Addleshaw Goddard was an early adopter of legal services apprenticeships when they first became available in September 2013. The premium business law firm took on ten young people that month to work in its Transaction Services Team in Manchester, with apprenticeship delivery by CILEx Law School.
The firm was awarded CILEx Employer of the Year at a ceremony in April 2015 as a result of its innovative apprenticeship scheme.
The apprentices completed their apprenticeships in summer 2015 and have been kept on in fulltime paralegal roles. They are continuing their CILEx studies, building on the units achieved during their apprenticeships with the aim of qualifying as Chartered Legal Executives in due course.
In March 2015, the firm launched its second legal apprenticeships programme, this time offering roles in both its Manchester and Leeds Transaction Services teams.
The apprentices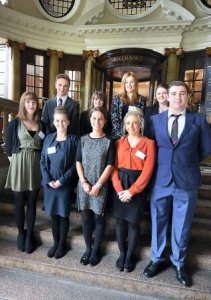 Gabriella Knowles, Jessica Brow and Bethany Bilton; bottom row (left to right) Eleanor Godwin, Jodie Keenan, Jamie-Lee Harris, Marianne O'Reilly and Connor McKinney.
The apprentices were selected for their enthusiasm, ambition and motivation. Most had recently completed their A Levels or BTECs at local colleges, and some had already selected law as an A Level subject or had studied some CILEx courses at college.
Marianne O'Reilly, who had an offer of a place to study law at Leeds University, said: "I did originally want to do a law degree because I thought university was the only option. In the summer after finishing my A levels I heard about the apprenticeship and decided to go for it. Now after two years I am employed as a paralegal and doing really interesting work. I'm also studying for my professional CILEx qualification."
Marcus Lunt, who had A levels in English Language, Geography and Biology, had intended to go to university but changed his mind when he heard about the scheme. He said: "CILEx Law School have been amazing. We all had our own assessor and they did regular reviews of our progress with us. They really helped us with the training, giving us guidance and helping us really helped us with the training, giving us guidance and helping us to learn on the job."
The apprenticeship includes CILEx Level 3 units in law, legal practice and professional skills. The Addleshaw Goddard apprentices achieved a 100% pass rate in the CILEx exam session in June 2014.
The work
The Transaction Services Team (TST) focuses on tasks that are found in major legal assignments but which do not necessarily need to
be done by qualified lawyers, such as document review, due diligence and e-disclosure, as well as process elements of transactional, advisory and litigation work.
Mike Potter, head of the TST says: "The TST is our award winning team of paralegals, apprentices and managers which delivers more for less. It does this by providing a wide range of legal services across our business, in either a stand-alone or an integrated way alongside Addleshaw Goddard's lawyers. The common theme for the tasks the team carries out, is they are found in our legal assignments but don't necessarily need to be carried out by qualified lawyers.
"The work undertaken by TST team is varied, challenging and interesting.
"We work on a huge range of matters supporting each of the divisions/practice areas of the firm: real estate; litigation; finance and projects;
corporate; and commercial. The range and scale of our work is compelling and encompasses highly complex pieces to the everyday. This means each day is different and members of our team are continually developing new skills and legal knowledge."
National Apprenticeship Award 2014
Addleshaw Goddard won the Newcomer of the Year in the regional finals of the National Apprenticeship Awards in September 2014. Nominations for the award were open to employers who had invested in apprenticeships since March 2012, and employers were asked to demonstrate the immediate benefits this has brought to them.
Mike Potter, Head of the Transaction Services Team at Addleshaw Goddard, said: "We are recognised for our differentiated approach to attracting, retaining and developing great people in the UK and across our international offices.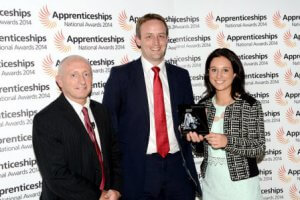 Mike Potter (centre) and apprentice, Jamie-Lee Harris (right) accepted the award on behalf of Addleshaw Goddard.
"Apprentices provide a whole new talent pool for the future and allow us to be more experimental and agile when responding to client needs. We are very proud of them. They bring new commitment and energy, whilst offering a more efficient way of delivering elements of our legal services, particularly in large transactions and complex cases. They also enable us to broaden our community connections and bring an increased focus on learning and development and career progression. We are delighted that our apprenticeship initiative has been recognised by this award."
Nicola Goodman, Learning and Development Manager at CILEx Law School, said: "I am very involved in the delivery of the apprenticeships to Addleshaw Goddard's apprentices through regular in-house teaching sessions. It has been a privilege to see these young people grow in confidence and become effective contributors to their employer's business."
CILEx Employer of the Year Award 2015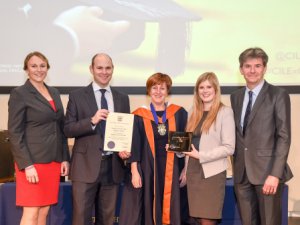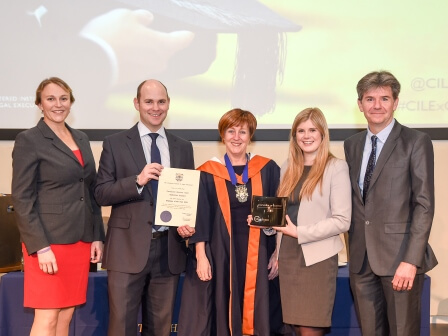 Left to right: Jenny Pelling, CILEx Law School's Business Director, Matthew Street, Team Leader, Transaction Services Team, Addleshaw Goddard, Fran Edwards, President of CILEx, Jaydene Hawkridge, HR Advisor, Addleshaw Goddard and Noel Inge, Managing Director of CILEx Law School.
The firm was awarded CILEx Employer of the Year at a ceremony in April 2015 as a result of its innovative apprenticeship scheme.
Monica Burch, senior partner at Addleshaw Goddard, said: "We are delighted to receive the CILEx Employer of the Year award for our apprenticeships. We are very passionate about our apprenticeship scheme and remain committed to providing an alternative career route for ambitious young people wishing to join the legal sector."
Monica continued: "Our Transaction Services Team have really embraced the opportunity and have worked hard to build a supportive, interesting and exciting apprenticeship scheme.
CILEx Apprentice of the Year Award 2015
One of the Addleshaw Goddard apprentices, Bethany Bilton, was awarded CILEx's Apprentice of the Year at the same time. Bethany first came to the firm as part of its Legal Access Week, which is aimed at state school A-level students, and is designed to widen access to the legal profession. Bethany had missed a lot of school time due to ill health during her teenage years. Bethany said: "I am looking forward to finishing my apprenticeship and there are a number of different options available to me now careerwise. This apprenticeship has helped me to get back on track. We do complete work from the different divisions which is great as we are constantly trying new things. I was nervous when I first started, but the help and support has always been there.
"It's hard to explain what I enjoy the most about the apprenticeship as there are so many different positive aspects. Enjoying the work that I do, meeting new people and experience life as a working person are just a few. A lot of my work is computer and paper based, and 'bibling' and scheduling are tasks that I particularly enjoy. My organisation skills have improved but the key thing for me has been getting my confidence back. We're constantly learning and there's always somebody available to talk to if we have any worries. I deal with the more senior fee-earners regularly who send out the initial instruction to the team leader, then we get allocated our tasks from there. It was pretty intimidating approaching senior people I didn't know at first, but once you've been doing it a while, it gets a lot easier."