Bond Dickinson Case Study
National law firm Bond Dickinson has employed a new cohort of apprentices in each of the past three years. The firm recruits first-rate school leavers to follow Advanced Apprenticeship in Legal Services through CILEx Law School.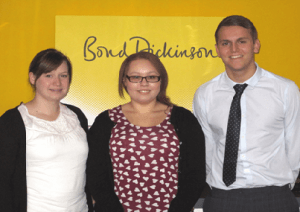 Bond Dickinson has been a great supporter of the CILEx qualifications for non-graduate staff throughout all its offices for many years, and the move to apprenticeships is an obvious progression.
Recruitment Manager Samantha Lee commented: "We see the Advanced Apprenticeship as a great way of combining the advantages of CILEx training alongside the development of workplace skills. The fact that this training route attracts public funding is an added incentive, as it allows us to recruit and develop excellent staff while reducing overheads."
The initiative started as a pilot with three young people recruited into the Plymouth office in September 2014 and has been very successful. A further three were recruited in September 2015 and a further cohort were taken on in September 2016. The firm has been actively involved in promoting legal apprenticeship by hosting an open day during National Apprenticeship Week which took place in March 2016.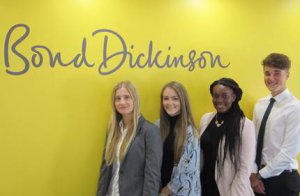 At the time of the initial pilot, Jenny Pelling, Director of Business and Apprenticeships at CILEx Law School, said: "We have been working with our clients at Bond Dickinson for many years in the delivery of CILEx courses by distance learning. We look forward to meeting their first apprenticeship recruits and being instrumental in their development from 'raw' school leavers to effective contributors to Bond Dickinson's business."
Proven success
A year later, in 2015, Craig Moore, Finance and Investment Partner at Bond Dickinson and Head of the Plymouth office, said: "Our first three legal apprentices have fitted in extremely well and are each contributing very successfully to the work of their teams. Their experiences at work are being continuously underpinned by the knowledge and skills they are gaining through the units taught by CILEx Law School, and their confidence and technical ability have both really flourished during the short period they have been with us."
The success of the apprenticeship scheme is due to the clear structure in place for apprentices to progress from entry level roles to becoming valuable fee-earners. Apprentices are allocated a supervisor and a mentor. They start with administrative tasks, such as inputting data, and drafting basic correspondence and move quickly on to supervised legal work on files. The apprentices' role develops as they gain experience and confidence in the workplace coupled with legal knowledge through their studies. There is a clear structure in place for appprentice paralegals to progress from the entry level roles up to Managing Paralegal positions and, for those who want to, the firm supports aspirations to go on to qualify as lawyers through the CILEx route.
Jack Bidgood, a final year apprentice at Bond Dickinson, said: "This apprenticeship scheme has enabled me to develop personally and professionally. Through the combination of self-study and on the job experience I have the knowledge and opportunity to put what I am learning into practice. The firm provides a great deal of support and are extremely flexible in their approach to facilitating our requirements."
Recognition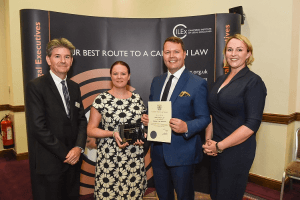 Bond Dickinson's support for legal apprentices has led to the firm being awarded the CILEx Employer of the Year Award for its apprenticeship programme. The award was handed over on Saturday 1st October 2016 at the CILEx Graduation Ceremony by Noel Inge, Managing Director of CILEx Law School and Jenny Pelling, CILEx Law School's Director of Business and Apprenticeships, to Mark Norman-Ball, Onshore Deputy Manager and Samantha Lee, Head of Recruitment at Bond Dickinson.
On accepting the award, Mark Norman-Ball, Onshore Deputy Manager at Bond Dickinson said: "We are delighted that our apprenticeship programme has been recognised in this way. Legal Apprenticeships are now playing an important role in our pipeline of future fee earners. To date two of the apprentices from our first cohort have been promoted into paralegal roles during August 2016 ahead of plan."
Sam Lee, Head of Recruitment at Bond Dickinson said: "Bond Dickinson have a proven, effective framework which has delivered enthusiastic and motivated apprentices, benefiting from the experience and engagement of all involved with the programme. We value apprentices as individuals and possibly the largest success has been watching their growth as people, not simply as statistics."
Bond Dickinson was the highest-ranking law firm in GTI Media's Top 100 most popular employers for school leavers in 2016.
Jenny Pelling, Business Director at CILEx Law School, said: "It is so rewarding to see the apprentices progress from being school leavers to competent fee earners. Apprentices from the original intake have all enrolled with us on further CILEx training, which is testament to the success of the scheme in nurturing talent and creating real career opportunities for these young people."