Browne Jacobson key client case study
Browne Jacobson, a national law with offices in Birmingham, Exeter, London, Manchester and Nottingham, has been a key client of CILEx Law School since 2012.
The firm operates in the commercial, public, health and insurance sectors, and employs over 760 staff, including over 300 lawyers and 98 partners, supported by a team of professional specialists.
2012 – six recruits to the Intermediate Apprenticeship
Browne Jacobson was an early adopter of the apprenticeship model for staff recruitment and training. In 2012 it was one of the first law firms to take advantage of the Level 2 Intermediate Apprenticeship in Legal Administration, which was the first apprenticeship qualification to be developed for the legal services sector.
The firm took on six apprentices from Nottinghamshire, giving them the opportunity to gain valuable employment at one of the region's leading law firms whilst gaining industry recognised qualifications.
At the time, Susan Mabbott, partner at Browne Jacobson, said: "As a local employer we have a commitment to invest in the future of the communities we serve. We firmly believe that this new apprenticeship pathway, with its opportunity of immediate work and the chance to study towards a credible qualification without racking up a mountain of debt, will prove an attractive proposition to many young people."
The apprentices were taken on to support Browne Jacobson's Technical Claims, Social Care, Environment and Medical Negligence teams in a range of file progression activities.
2014 – sixteen apprentices enrolled on Advanced Apprenticeship
Browne Jacobson recruited a new intake of apprentices to train at Level 3. The original cohort of Intermediate apprentices were also ready to progress to this apprenticeship. In total 12 young people enrolled on to the Advanced Apprenticeship in Legal Services in early 2014. The government pays all fees if an apprentice is still aged 18 at the time the apprenticeship starts; for those aged 19-23 50% is payable by the employer. The enrolment of 12 young people on to this scheme represented an investment of £37,000.
A further four apprentices were recruited and enrolled on the Advanced Apprenticeship in have been recruited in autumn 2014.
2016 – original apprentices due to complete the Advanced Apprenticeship
The Level 3 apprenticeship provides progression to the first stage of Chartered Legal Executive training. Employers have the opportunity at the end of the apprenticeship to continue to invest in those who have shown the ability and commitment, by sponsoring them through further CILEx training so that they can become the firm's next generation of qualified lawyers.
What the client says
Sally Swift, Legal Services Manager at Browne Jacobson, commented: "Browne Jacobson was one of the first law firms nationally to offer legal apprenticeships. We wanted to break the mould and dispel any myths that young people have to go to university in order to have a successful career in the legal sector. Being able to create an alternative pathway into a career in law is something we are very proud to be involved in.
"The commitment and time given by the team at CILEx Law School to understand our business, our requirements and the type of apprenticeship programme we wanted to launch was exceptional. The care shown by them has ensured that our apprenticeship programme is an exciting addition to Browne Jacobson."
One of the original Level 2 apprentices, George Denton was honoured at House of Lords event in July 2014. Speaking at the ceremony he said: "The support from our apprenticeship training providers, CILEx Law School, has been excellent, and on behalf of all the apprentices at the firm and I would like to thank them for providing us with such a fantastic opportunity to learn and grow. I feel very proud but privileged to be given such an opportunity."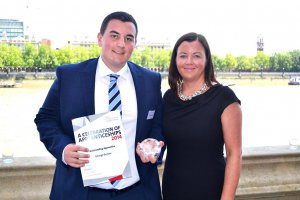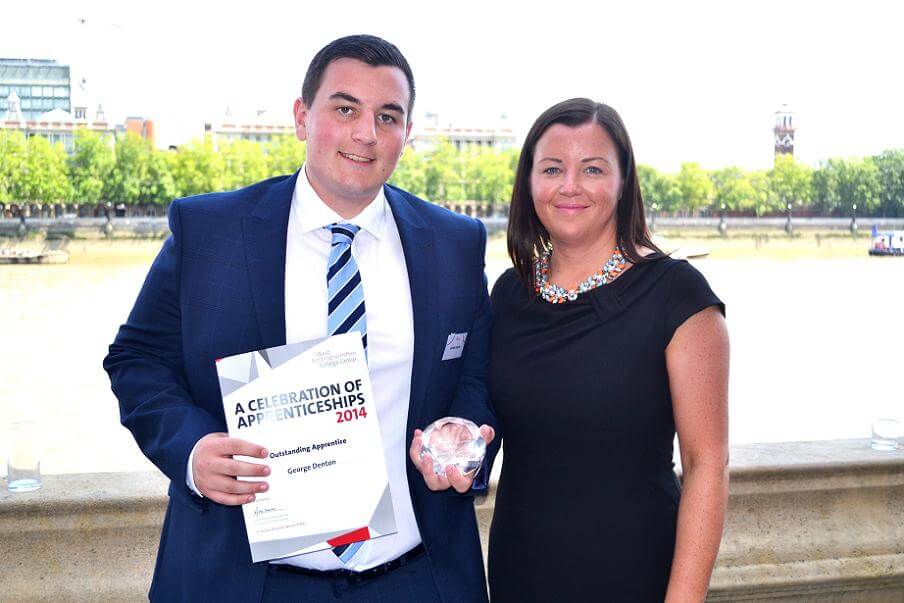 Sally Swift, who is responsible for the apprentices, described George as "a talented individual who, although early in his career, delivers exceptional standards and fully embraces what an apprentice truly is".
What we say
Our Business Director, Jenny Pelling, was quoted at the time that the first Level 2 apprentices were taken on as saying: "It's encouraging to see such a highly regarded employer as Browne Jacobson addressing the much debated need to broaden access to the legal profession. The project comes at a time when the profession is really starting to embrace the concept of apprenticeships, with the development work for Level 3 and Level 4 Legal Services Apprenticeships set to deliver paralegal apprenticeships in 2013."
She now adds: "Four years on, I am delighted to see that the initiative has been such a resounding success for our client. The fact that 16 young people have begun their working lives as legal apprentices and are now integrated into Browne Jacobson's business illustrates the value that the firm places in the scheme."