DWF – academy key client case study
Over the past eight years DWF has grown from being a regional firm with two offices in the North West, to a Top 20 law firm with a turnover of £200 million employing 2,500 people across twelve offices in the UK and Ireland.
The in-house training initiative with CILEx Law School was set up in 2011 as part of the firm's strategy for growth. In 2011 it recruited six school leavers as administrative assistants to study CILEx courses alongside their daily work. As well as the new recruits, other paralegal members of staff, some of whom had already started on CILEx qualifications, and others who were law graduates, were also enrolled on CILEx courses within the context of the in-house Academy.
In 2014 there are currently 24 staff members from DWF enrolled on courses with CILEx Law School, representing an annual investment of over £50,000.
Structured training
Academy training combines CILEx Law School's distance learning courses with an additional programme of in-house tuition and regular tracking of progress. By enrolling cohorts of students on the same courses at the same time, CILEx Law School can schedule in-house teaching sessions for all students.
DWF's training programme for CILEx Level 3 students covers the units leading to a Certificate in Law and Practice (Civil Litigation) with Tort as the law unit in the first year, followed by Employment Law, the Practice of Employment Law and the remaining mandatory units for the CILEx Level 3 Professional Higher Diploma in Law and Practice in the second year. Selection at Level 6 varies depending on the specialisms selected by individual students in consultation with the training manager and supervisors.
The programme is managed on the ground by CILEx Law School's Learning and Development Manager for the north-west, Nicola Goodman.
DWF receive a monthly progress report which highlights student progress. If a student falls behind for any reason we will work with them to create an individual study timetable to help get them back on track and keep the firm informed.
Success stories
Law graduate Robert O'Connor studied the CILEx Graduate Fast-track Diploma with CILEx Law School. He passed all three Level 6 courses within a period of nine months which is a remarkable achievement.
On receiving his exam results, Robert said: "I have enjoyed this opportunity to enhance my role at DWF with additional legal training. I am very grateful to DWF for its commitment to my ongoing professional development."
Claire Allot has completed her CILEx Level 3 Professional Diploma in Law and Practice and two of the Level 6 units towards her CILEx Level 6 Professional Higher Diploma in Law and Practice. She is now a Paralegal in the Motor Insurance Department. Claire Allott started this course in 2011 as a Legal Secretary. Due to her growing skills and exam results achieved, she was promoted to Junior Paralegal in November 2012 and then to a Paralegal in January 2014. Claire said: "I would like to thank DWF and the Learning & Development Team for the fantastic opportunity that they have given me. Without their funding and support, I would not have been able to achieve this qualification".
Nicola Goodman said: "DWF students perform well in CILEx exams, which is a great testament to the in-house model of course delivery. Of the 56 Level 3 exam entries from DWF in June 2014, 47 learners passed their exams producing a pass rate of 84%, which is well above the national CILEx pass rate of 66%. The achievements at Level 6 are amply showcased by Nick Stratful's full bag of distinctions, and Robert O'Connor's fantastic achievements on the GFTD.
"This success rate undoubtedly reflects the commitment of both the learners and DWF who invest in their staff to develop their own talent."
What the client says
DWF's managing partner and CEO, Andrew Leaitherland, who was named Management Partner of the Year at the Legal Business Awards 2014, said: "We are committed to developing the skills of all our people, and by establishing the in-house training initiative with CILEx Law School we are offering the opportunity for young people to build a legal career without necessarily going through the traditional university route. We use this academy to make sure everyone in the business has the opportunity to further their careers with us and take advantage of each opportunity that comes their way."
Alexandra Holmes from DWF's Learning and Development Team, said: "The in-house CILEx training initiative is a key plank in the firm's staff development strategy. We have an excellent partnership with CILEx Law School, which has been a major factor in the continuing career development for many of our apprentices and junior paralegals."
What we can do for you
Jenny Pelling, Business Director for CILEx Law School, said: "It is fantastic to see what can be achieved through embedding staff training within a firm's ethos. Over the past three years DWF have developed a cohort of junior staff into very effective, committed and loyal paralegals who are the sort of employees of whom any organisation would be proud."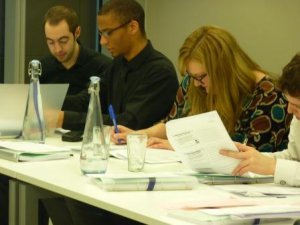 DWF being presented with the CILEx Employer of the Year award 2012. As well as receiving the Employer of the Year Award, DWF were represented in the Graduation Ceremony by Louise Boshell and Alexandra Bridges whose qualification as Chartered Legal Executives was also celebrated. Pictured from left to right: Alexandra Bridges, Sam Morrow, Jenny Pelling, Louise Boshell and Noel Inge, CILEx Law School's Managing Director.
Left to right: DWF employees Greg Smith, Ben Green, Katey Armitage and David Unwin at an in-house session at DWF taught by NDWF employees Greg Smith, Ben Green, Katey Armitage and David Unwin at an in-house session at DWF taught by Nicola Goodman.