Apprenticeship client case study  – Kennedys
Kennedys is an international law firm with specialist expertise in litigation/dispute resolution and advisory services, servicing the insurance, corporate and public sectors. It has been a key employer in the development and introduction of legal apprenticeships since the first scheme became available for the legal services sector in 2012, and now employs over twenty young people on these schemes.
First apprentices join Kennedys September 2012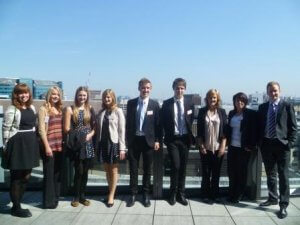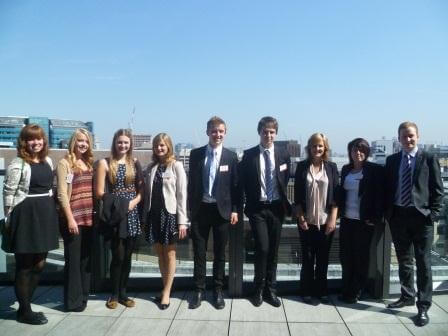 In September 2012, when only Level 2 apprenticeships were available, the firm appointed its first group of ten legal apprentices. Most of the apprentices had completed their A levels earlier that summer and decided to follow a vocational route into the profession, avoiding the cost of university. The Level 2 apprenticeship includes a blend of workplace-based training and assessment designed to develop knowledge and understanding of the legal environment as well as administrative skills.
Emma Phipps, HR Advisor from Kennedys said at the time: "We had an overwhelming response from applicants and have appointed ten top class A Level leavers into our ranks. We already employ many high achieving individuals who have chosen to enter the law using an alternative route and hope that the Legal Apprenticeship scheme will further reinforce Kennedys' commitment to attracting a diverse range of talented lawyers."
The apprentices were employed as legal administrators and all completed their Level 2 apprenticeship within the first year. They then progressed to the specialist Level 4 Higher Apprenticeship in Legal Services when it became available in September 2013. Harriet Prince, one of the original cohort now doing the Higher apprenticeship, scored 93% in her Law of Tort exam in June 2014.
Three of the 2012 intake of Kennedys' apprentices participated in the launch of the CILEx Level 3 Advanced Apprenticeship in Legal Services at Kennedys' London office in September 2013 at an event attended by Stephen Gowland, President of CILEx and Alan Woods OBE, Group Chief Executive of Skills for Justice.
Second cohort of apprentices recruited in September 2013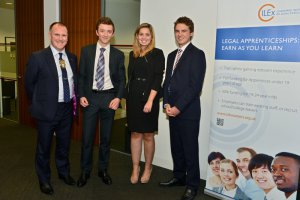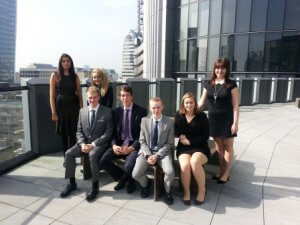 Building on the success of the first intake, the firm recruited a further seven apprentices in September 2013, who took up their posts in a number of offices throughout the country following a week-long induction in London.
The new apprentices were enrolled on the Level 3 Advanced Apprenticeship in Legal Services scheme. This legal apprenticeship is designed to train staff as competent paralegals. Five of the apprentices had just left school, one had a gap year and one had been working at Kennedys as a paralegal. The school leavers had elected to take up this opportunity rather than go to university.
Charlotte Willis who had achieved A Levels in English Language, Spanish and General Studies and now works in the personal injury team at the Sheffield office said at the time: "I had offers from universities but decided against going, as I felt the academic qualifications and practical experience I would get from the apprenticeship."
The Level 3 apprentices are employed in various departments across the liability division. In the early stages they assisted in progressing files by completing standard tasks under supervision. Their responsibilities have grown with experience and with the knowledge gained through their CILEx law and legal practice courses.
Third cohort recruited September 2014
A further intake of seven apprentices for the Advanced Apprenticeships have been recruited from the 2014 crop of school leavers for positions in Manchester, Sheffield, Chelmsford, Taunton and London offices.
Rowena Bubb, Graduate Recruitment Advisor, Kennedys said: "The partnership between CILEx Law School and Kennedys is crucial to the success of the Kennedys' Legal Apprenticeship programme. CILEx Law School's assessors and our training and development team work together alongside the apprentices and their supervisors to ensure the scheme runs smoothly for the business and everyone involved. We are delighted with the guidance and support we have had from CILEx Law School and the programme's continuing success."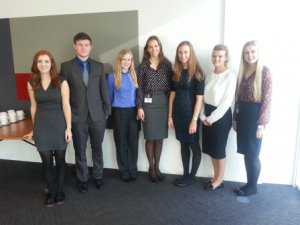 Jenny Pelling, Business Director for CILEx Law School said: "Kennedys' recruitment of a third intake of apprentices is an excellent endorsement of the legal apprenticeship as a means of attracting bright young school leavers into law. The apprenticeship we offer also acts as an ideal platform for further development of those recruits who show a real aptitude for law, as it provides exemptions from part of CILEx's professional qualifications."