Sills & Betteridge – Use CILEx qualifications for staff development and retention
Many law firms use CILEx courses as a recruitment and retention tool.
Benefits to the employer
The benefits of integrating CILEx qualifications into your organisation's training and development programmes are:
Targeted training for the job role
A variety of training outcomes from paralegal to fully qualified lawyer
No educational entry barriers
Separate qualification route for law graduates
Ideal for staff motivation and retention
Case study – Sills & Betteridge
Sills & Betteridge, a multi-branch firm based in Nottingham and the east of England, is an excellent example of an organisation that has integrated CILEx training into its staff development programme.
Rachel Maclean, partner at Sills & Betteridge, says: "Lots of people have come to Sills &Betteridge at different stages. CILEx qualifications allow us to motivate and train people and to keep really good quality staff. We have been able to provide this to school leavers through to graduates.
A rigorous training plan and programme delivered through CILEx Law School helps to ensure that we are able to support our fee earners and team members to inspire and motivate them to move and progress forward. It means we are able to retain excellent individuals and utilise their skills for the development of Sill & Betteridge and the business."
These staff profiles show how Sills & Betteridge is using CILEx qualifications to develop employees with a breadth of educational backgrounds and experience to become qualified lawyers.
Match the qualification to the employee
CILEx Law School students sponsored by Sills & Betteridge include employees with a wide range of educational backgrounds. Some left school after GCSEs or A Levels and have taken the vocational route to qualification as a Chartered Legal Executive, studying the CILEx Level 3 Professional Diploma in Law and Practice followed by the CILEx Level 6 Professional Higher Diploma in Law and Practice. Others already hold law degrees and are studying for the CILEx Graduate Fast-track Diploma. Those who have already studied the LPC do not need to study for more academic qualifications but must comply with CILEx's qualifying employment requirements to become qualified Chartered Legal Executives.
The HR perspective
Kelly Credland, HR Manager at Sills & Betteridge, says: We currently have 12 students at all different levels and more and more people are interested in the CILEx route. What is interesting is that I am finding more people are going to university and completing law degrees but instead of committing to the LPC they are finding employment within a law firm and then enrolling on the CILEx route. Also recently we have found that some very bright A Level students are not wanting to commit to university but still want to learn and we have had a few students enrol straight from A Level rather than going to university which I think is interesting and shows how things are changing.
What is good about the CILEx qualification is that you can tailor the units to the individual and the department. So, if people are working within the wills department, then they would opt for the elderly client unit more often than not, and those in family would choose family law. This helps them a lot, as most of them are not legally trained so they are getting the hands-on practical experience within the department and then the theoretical experience from their studies which is invaluable.
We have found that we have been able to recruit some very bright A Level students through recruitment fairs at local schools because of actively promoting the CILEx route and providing information about CILEx to people who would not ordinarily know about this. Daisy Savage springs to mind, as she achieved three As at A Level and did not really want to go to University. Within three months of joining the firm, Daisy was promoted from an office assistant into the family department as a legal secretary and has enrolled onto Level 3. I feel that by offering this to students we attract people who would ordinarily go to university which is great.
Jenny Pelling, our CILEx Law School contact is really helpful and is on hand on the telephone whenever I have a query. Jenny came to see all of our students recently and gave them a real boost, giving feedback to each of them and advising them on what units to pick etc. Everyone was really empowered when she left which was great for morale boosting."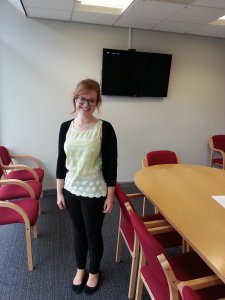 Daisy Savage joined Sills & Betteridge straight from school and has received distinctions on her exams to date. The fact that she is undertaking a Level 3 Certificate and her exam results have meant that she has quickly gone from "post girl to trainee paralegal".