CILEx Law School Student Rosemarie Ayres excels in her legal secretarial course
CILEx Law School student Rosemarie Ayres has been awarded a City & Guilds Medal for Excellence for her performance in her City & Guilds/CILEx Level 2 Certificate for Legal Secretaries course. The Medal was awarded by CILEx Law School's Academic Manager Elizabeth Harding on Tuesday 6 March at a ceremony at CILEx Law School's premises in Kempston, Bedford.
City & Guilds Medals for Excellence have been awarded for over 100 years and aim to acknowledge exceptional talent amongst both learners and tutors.
Director General of City & Guilds Chris Jones comments: "'At City & Guilds, we want to enable people and organisations to develop their skills for personal and economic growth. We believe all individuals have talent, and we are committed to helping them fulfil their potential. That's why it's so important to celebrate their outstanding achievements through our annual Medals for Excellence programme. Winning a medal requires a lot of hard work and dedication, and all of our winners should be incredibly proud of their success. I wish them all the best for the Lion Awards and for their futures – wherever it may take them."
Kathryn Kirby, CILEx Law School Courses Manager, said: "We are all delighted for Rosemarie and congratulate her on an outstanding performance in her Level 2 Certificate for Legal Secretaries."
Find out more about CILEx Law School's courses for legal secretarial qualifications.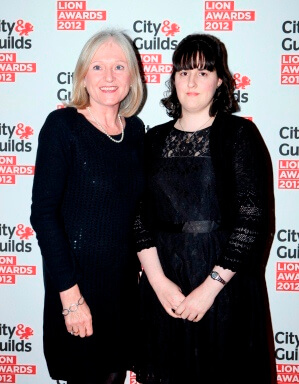 Rosemarie and Elizabeth Harding at the Lion Awards