CLS celebrates National Apprenticeship Week 2019
CILEx Law School has attended events up and down the country as part of National Apprenticeship Week 2019, March 4-8 2019. We have also been showcasing our apprentices and apprenticeship employer clients across our digital platforms.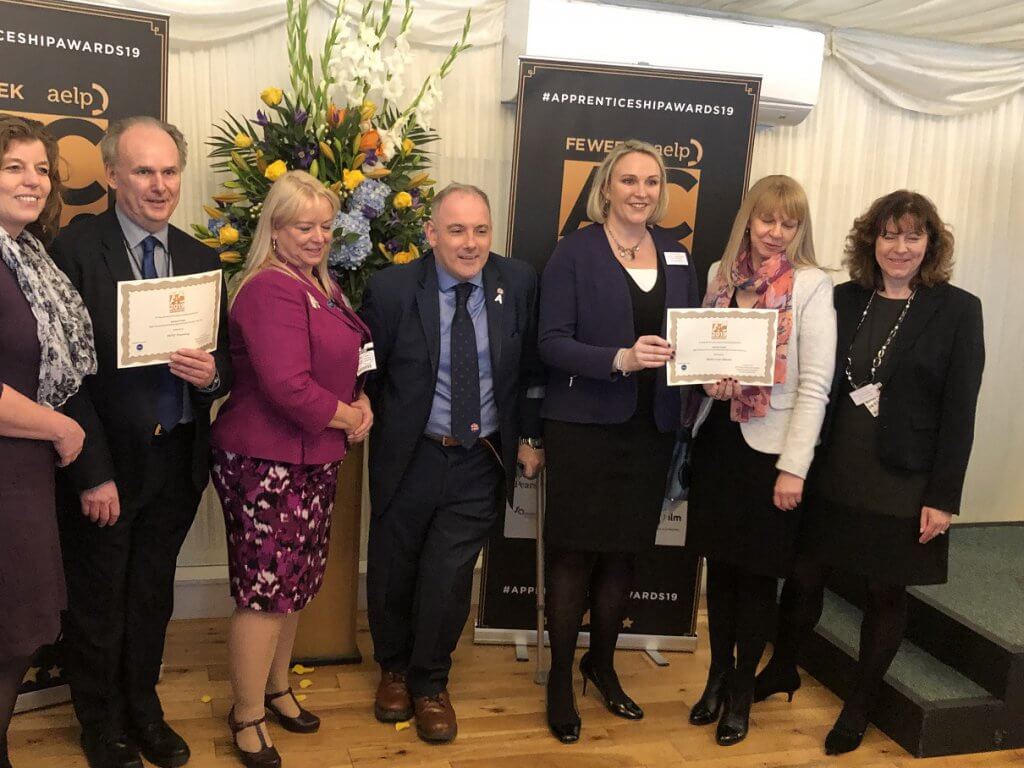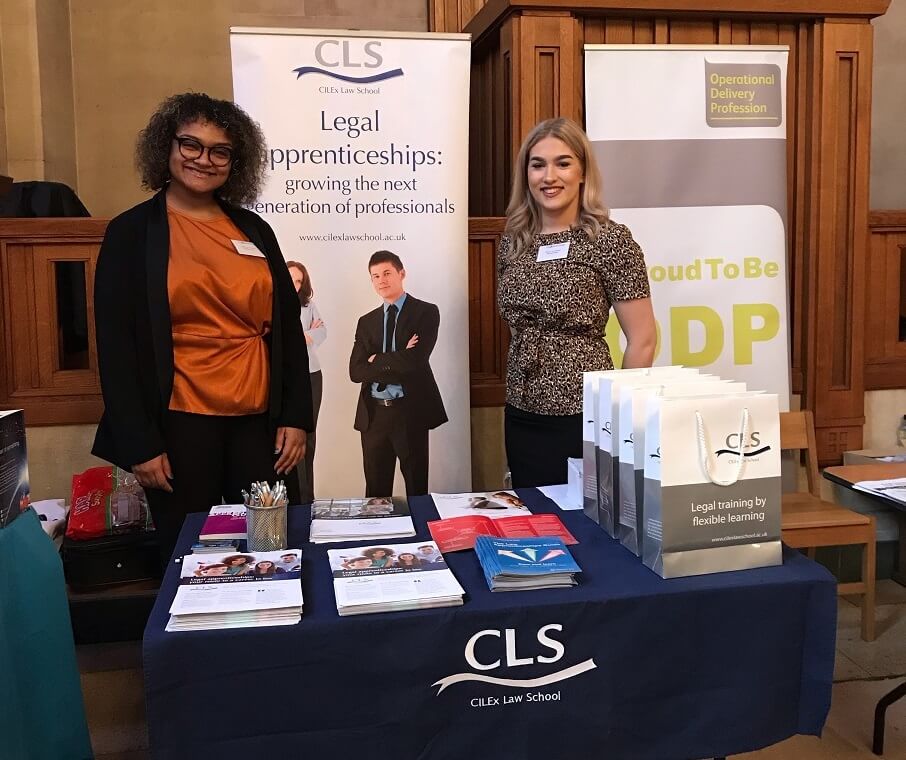 The Leeds Apprenticeship Recruitment Fair, organised by the Leeds Apprenticeship Hub and the largest event of its kind in the North of England, was a great opportunity for our Apprenticeship Recruitment Team to meet students, parents/carers and schools and inspire them to consider legal apprenticeships as a gateway to entering the legal profession.
They were also on hand at the City & Guilds 'A Celebration of Apprenticeships' event in London to give a presentation on legal apprenticeships to prospective apprentices. Kathryn and Hannah spoke about the different legal apprenticeship programmes available, roles in the legal sector and how to apply for an apprenticeship.
Promoting apprenticeships
From London to Carlisle, not to mention Lincoln, Nottingham, Newcastle and Leeds, the CLS team has been engaging with employers on the benefits of apprenticeships.
En route we attended local events: an apprenticeship open afternoon at Roythornes in Lincolnshire and the Northumbria Solicitor Apprenticeship open evening in Newcastle. Both provided a great opportunity to meet parents and sixth formers to explain legal apprenticeship roles.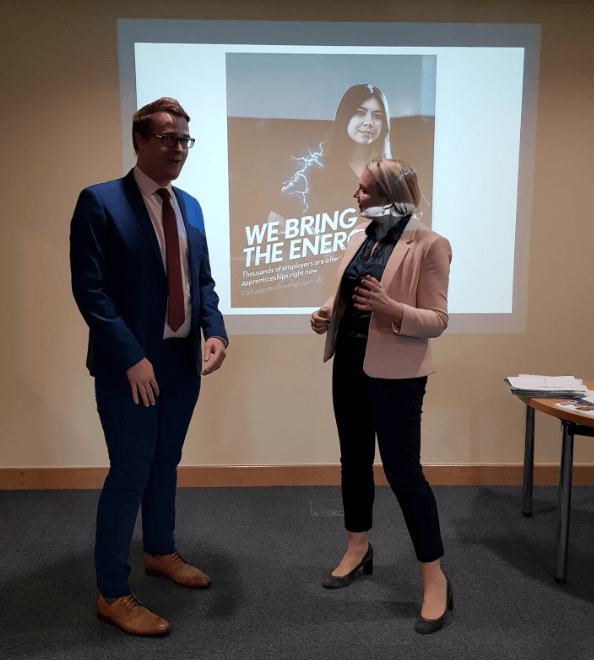 Making some noise
We have been shining a spotlight on legal apprenticeships all week on Twitter. We interviewed both apprentices and employer clients about their experience, as well as surveying all our apprentices ahead of National Apprenticeship Week. It has been exciting going through their responses.
They highlight both the benefits and realities of taking the apprenticeship route into law. Overwhelmingly, it has been a positive experience:
44% say that they have changed as a result of doing an apprenticeship
58% report that the people around them see apprenticeships differently as a result of them doing one
83% think that their apprenticeship has given them career opportunities they wouldn't have otherwise had
92% would recommend an apprenticeship to others.
We are thankful for their candid responses, some of which you can find here.
Walking the walk and talking the talk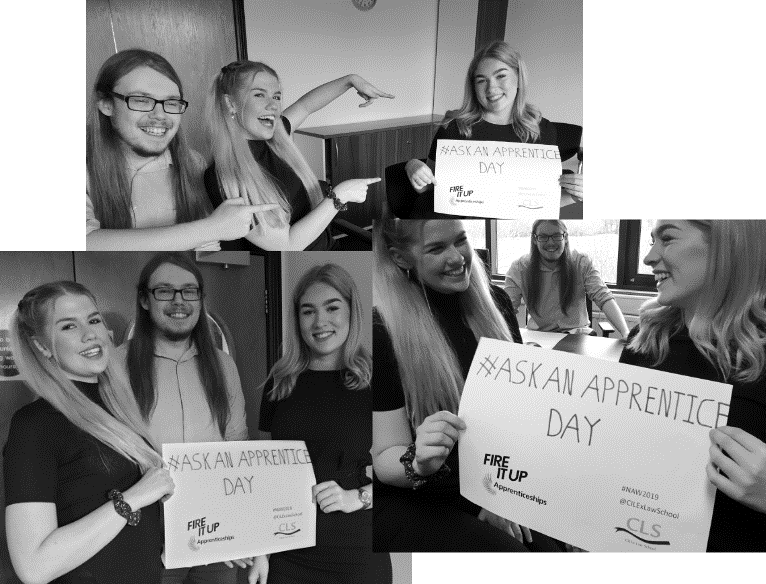 CLS is proud to employ its own apprentices. We had them on hand to answer questions on Wednesday, #askanapprentice day, and Hannah, our Apprenticeship Recruitment Coordinator, is nominated in the Female apprentice of the year category at the Bedfordshire BusinessWomen Awards 2019.
The award ceremony is this evening (Friday 8 March) and it would be a very fitting way to end the week were she to win. Good luck Hannah!
A successful week
Jenny Pelling, our Director of Business and Apprenticeships said: "It has been really inspiring for us all to meet prospective apprentices, school representatives and parents this week. There is a growing enthusiasm for apprenticeships in the legal sector.
Equally important is the need to recognise the fantastic apprentices we have on programme and their supportive employers.
National Apprenticeship Week 2019 has been, yet again, a great success and we look forward to NAW 2020!"