CILEx Law School confirmed as leading provider of apprenticeships for the legal sector
CILEx Law School was officially the biggest provider of legal apprenticeships during the last academic year.  
Government figures published in December show a total of 780 legal apprenticeship starts during 2017/18. 
CILEx Law School was the leading provider of both Paralegal Apprenticeships and Chartered Legal Executive apprenticeships. 180 paralegal apprentices enrolled with us during 2017/18, which represented the biggest intake of all providers. We also took on the most Chartered Legal Executive apprenticeships, with our 90 starters representing half of the total. Our total of 270 apprenticeship starts represents 35% of all legal apprenticeships and is higher than any other provider. 
We also deliver solicitor apprenticeships in partnership with City, University of London's City Law School, which accounted for a further 30 starts.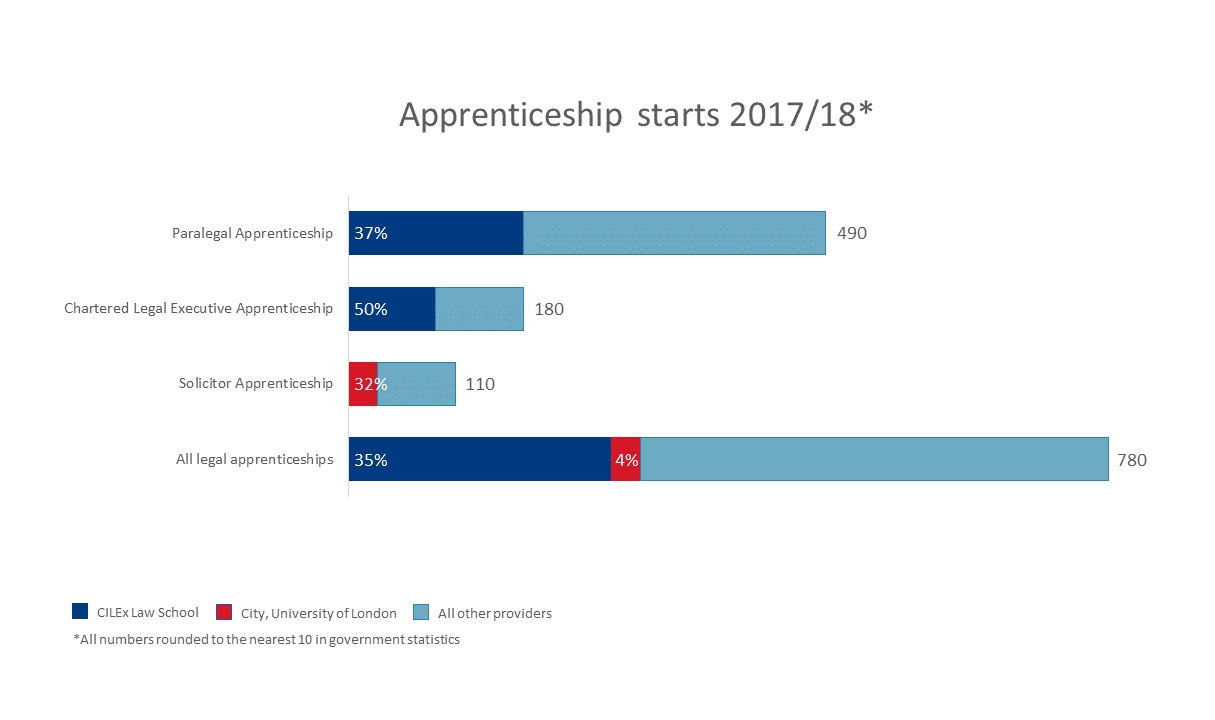 From the 2018/19 academic year we are also offering solicitor apprenticeships in partnership with Northumbria University. 
Jenny Pelling, Director of Business and Apprenticeships, said: "The popularity of legal apprenticeships is partly due to CSR initiatives as more firms seek to offer alternative routes into law. It's also attributable to the apprenticeship levy, with many of our employer clients wanting to utilise their levy payments before they start to expire in May 2019. We are delighted that the figures show our official position as market leaders within the legal sector and are grateful to our clients for all their support." 
The figures, released by the Government on 20 December show there were 369,700 apprenticeship starts reported in total between August 2017 and June 2018. 
As well as these legal apprenticeship programmes, CILEx Law School also delivers Business Administrator apprenticeships within the legal sector. An intake is being planned for April 2019 for those who wish to take advantage of the first year of levy payments while they are still available for allocation.