CLS's Director of Business and Apprenticeships Jenny Pelling shortlisted for Outstanding Contribution Award
Jenny Pelling, Director of Business and Apprenticeships at CILEx Law School, has been shortlisted for the Outstanding Contribution to the Development of Apprenticeships (Individual) category in the AAC Apprenticeship Awards sponsored by FE Week and the Association of Employment and Learning Providers (AELP).
While apprenticeship numbers nationally have been falling, the legal sector has bucked the trend and has seen significant growth. Jenny has been instrumental in developing legal apprenticeships and supporting the legal sector to introduce legal apprenticeship schemes across England.
Jenny was on the board that developed the framework for the Higher Apprenticeship in Legal Services. Recognising the opportunity that apprenticeships created for young people and employers alike, Jenny worked throughout 2012 and 2013 to raise awareness through employer forums and events held nationally.
No sooner had the Advanced and Higher Apprenticeships been adopted by clients than the funding moved to the Paralegal, Chartered Legal Executive and Solicitor Apprenticeships, which became available for delivery from September 2016.  Jenny was part of the trailblazer group for these Standards.
Once again, Jenny took on the role of awareness-raising in the legal sector, running employer forums with colleagues around the country and speaking at events such as the Liverpool Law Society and the Law Society in London.
As a result of Jenny's commitment, support and enthusiasm, several of CLS's longstanding clients became early adopters of apprenticeships. Jenny was a key advisor and instigator in the first major apprenticeship initiatives being launched in the legal sector by Browne Jacobson in 2012, Hill Dickinson in 2013 and Womble Bond Dickinson in 2014. Each of these organisations has taken on a cohort of apprentices in every year since starting their schemes.
Noel Inge, Managing Director of CILEx Law School, said: "Jenny's shortlisting for this Award is a fitting recognition of the extraordinary energy and commitment that she has put into developing apprenticeships since they became available for the legal sector seven years ago. She has gone well beyond the requirements of her role within the company to establish these programmes within the sector and to make them a success for employers and apprentices alike."
CILEx Law School has been shortlisted in the Legal, Finance & Accounting Apprenticeship provider of the year category in the AAC Awards.
All finalists have been invited to attend a reception at the Houses of Parliament on 4th March 2019, at the start of National Apprenticeship Week. The winner will be announced on 28th March.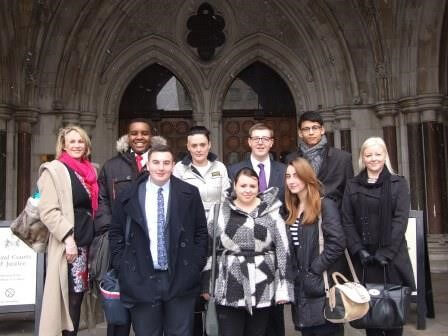 Photo: Jenny with the first intake of Browne Jacobson apprentices