Excellent results from our annual survey of CILEx students
Thanks to all those students enrolled on CILEx courses with CILEx Law School (CLS) who responded to our annual survey. 321 Level 3 and 336 Level 6 students submitted a response.
Top findings
93% of Level 3 students and 91% of Level 6 students would recommend CLS to their friends and colleagues. Overall, 93% at Level 3 and 90% at Level 6 are generally very satisfied with their CILEx Law School course.
Our customer service was rated as very good or good by 89% of Level 3 students and 86% of Level 6 students.

What our students say
We asked students what the best thing was about studying with CILEx Law School. Here are some of the responses:
Level 3
I work full time and therefore my CILEx Law School courses enable me to balance and prioritise my time due to the flexibility of not fitting around the academic year. The materials are very detailed and helpful, and there is plenty of support for me, i.e. the telephone lines.
The fact that the workflow for each unit is clear and fluid, the fact that the information is set out in such a way that complex subjects can be grasped if you spend enough time going through the material with little additional assistance, and that if you do need assistance it is readily available. The fact that everything can be accessed online is also incredibly helpful.
I study at times that suit me, if I need to they are ready to help me. I found them very professional yet friendly. I truly feel they are working on the best interest of students. Teaching is great!
No matter how hard it gets, I can look on the forum and realise we are all in the same boat. Everyone is working hard, and we have the fantastic support of CLS behind us, who are there to answer any questions. The thought of looking to the future seeing myself as a Legal Executive gives me the motivation to keep going.
CLS is a perfect option for those who want to obtain a quality legal education while keeping a fulltime job. The courses provide flexibility and good value for money.
Level 6
Quick responses and patient. I felt like sometimes I asked too many questions, but they always put me at ease and were patient in their responses.
Flexibility and the relaxed approach (meant in a good way!) in that you are not pressured to complete work and/or made to feel bad if you haven't. The school I feel recognises that everyone has a different timetable to work to.
Knowing that I can email or telephone my tutor and she is always willing to help. Studying via distance can be very hard especially when you are working full time and getting updates for deadlines and reminders are always very helpful.
Both my job and my home circumstances have changed over the time that I have been studying with CILEx Law School. The flexibility has allowed me to adapt how and when I study and postpone completion of courses when the planned deadline was no longer appropriate. Also, I am a fast learner and the flexibility has allowed me to complete units in less time than a structured course would permit, when my circumstances have leant themselves to it.
Distance learning courses are ideal for people returning to education and CLS courses are set up well to assist. More support initially on induction days regarding how to get back into studying and learning tips would be helpful.
I have thoroughly enjoyed this. The learning materials/resources are great. I been on some of the weekend sessions which are brilliant, and I recommend them.
Everyone I have had contact with at CILEx law school from tutors and academic staff, to also other students on the course has been positive, friendly and helpful.
Graduate Fast-track Diploma
I would strongly recommend CILEx Law School to my friends/colleagues as a modern, alternative route to qualification. The course represents good value for money, particularly in comparison to the LPC.
The course materials are extremely helpful and give essential information in a way that is easy to understand. The revision days have been invaluable and the feedback given in study exercises have helped to develop my knowledge and ability to apply the law to cases as well as prepare me for exams. The course is also great value compared to the LPC – I would highly recommend studying the graduate fast-track diploma through CILEx Law School!
How our students describe us
We ask our students every year to select the three words that best describe us. Here they are: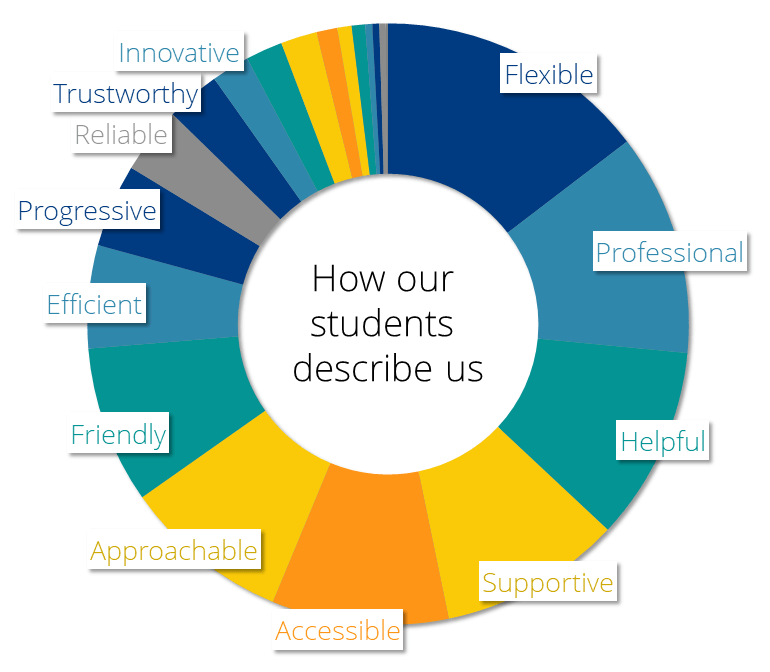 How we use the feedback
As well as overall ratings, we ask students in the survey for feedback on individual course elements – from the course manual, to the welcome webinar, the study exercises and revision sessions. Kim Morrison, Academic Director at CILEx Law School, said: "The feedback we receive from our students is an invaluable source of information on our course delivery. We review all comments and take account of those as part of our continuous review of our course resources and delivery methods."