Level 3 Advanced Apprenticeship formally launched
The CILEx Level 3 Advanced Apprenticeships, which will provide a new route into the legal profession, was launched by the Chartered Institute of Legal Executives (CILEx) and Skills for Justice at Kennedys LLP on Monday, 30 September.
The new CILEx Level 3 Advanced Apprenticeship in Legal Services is set and assessed at A-Level standard and is suitable for school leavers, career changers as well as those already in a paralegal role. Once a student has completed their apprenticeship, they will also gain exemptions from part of CILEx's professional qualifications.
CILEx President and apprenticeship ambassador, Stephen Gowland, spoke at the event about the importance of apprenticeships. Stephen began his legal career as an apprentice earning just £35 per week and is now running his own law firm. Commenting on the new scheme, Stephen said: "This course will provide individuals and employers with an additional approach to a legal career and one which complements CILEx's already strong vocational legal qualifications. As so many of our paralegal members have done before them, apprentices will be able to progress to qualification as a Chartered Legal Executive lawyer."
Alan Woods OBE, Group Chief Executive of Skills for Justice said: "Apprenticeships as we all know provide work experience and knowledge, increasing the diversity of the workforce by facilitating access for a wider pool of job applicants. Most importantly they dramatically increase opportunities for young people to develop fantastic careers in law. Apprenticeships are certainly an excellent way to recruit talent and develop skills and I look forward to seeing law firms taking new approaches to recruitment and training through the CILEx Level 3 Advanced Apprenticeship in Legal Services."
CILEx now offers the Level 3 Advanced and Level 4 Higher Apprenticeships in Legal Services. With 100% funding from the government in certain cases, apprentices can expect to earn a salary which meets National Minimum Wage requirements as well as gaining valuable on-the-job training.
Speaking of CILEx, Dr Vince Cable MP, Secretary of State for Business, Innovation and Skills said: "The route you have opened in developing the CILEx Level 3 Advanced Apprenticeship in Legal Services, offers the ideal opportunity for ambitious young people to get ahead whilst earning a wage and for employers to recruit the brightest and the best."
Matthew Hancock MP, Minister for Skills commented: "I am very keen on this new route into the legal profession, which will open the door for many new people who may not have had access to a career in law. These new apprenticeships will complement the traditional academic route and will have a positive impact on the diversity and social mobility for those entering the legal profession. It is our aim to make choosing between going to university and taking an apprenticeship the new norm. The CILEx Level 3 Advanced Apprenticeship in Legal Services will help to make this happen."
Several CILEx Law School clients have already ambraced the new scheme, and the launch venue was selected because of CILEx Law School's work with Kennedys on apprenticeships.
See:
Thomas Eggar LLP launches new legal apprenticeship scheme
Ten Legal Services Apprentices join International Law Firm Addleshaw Goddard
Kennedys recruits seven new legal apprentices to build on success of 2012 intake
Legal Apprentices start at DAC Beachcroft under new Government scheme
National law firm Shoosmiths to adopt legal apprenticeship initiative
Find out more about the Level 3 Advanced Apprenticeship in Legal Services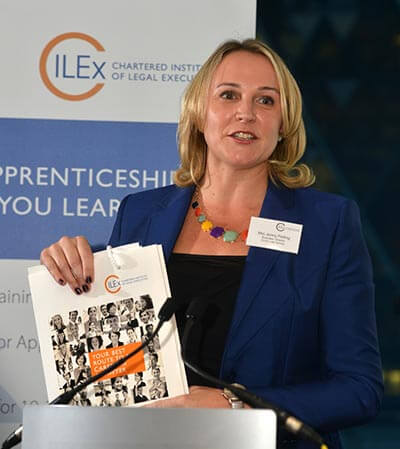 CILEx Law School Business Director Jenny Pelling at the launch.