Out and about during National Apprenticeship Week
As part of National Apprenticeship Week we asked our Learning and Development Advisors to share some of their activities with us. As usual they have been out and about in law firms conducting training and assessment of apprentices in their local areas.
Ruth Armstrong sent us a photo of a group teaching session with DAC Beachcroft legal apprentices for the Civil Litigation unit of their studies.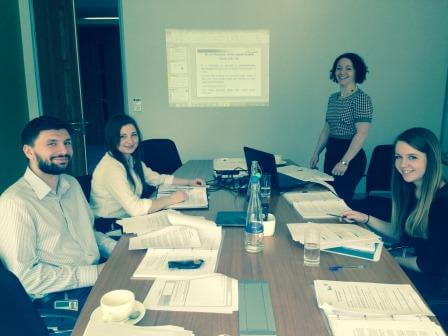 Oliveen Elliott had a one-on-one assessor session with Mariam Khan, an apprentice with Charles Simmons Solicitors.
Mariam's line manager, Sandeep Chandi, took the opportunity to comment on Mariam's progress:
"Mariam has been employed by us as a legal apprentice for 6 months now. During that time we have seen her flourish as her knowledge and skills develop through the apprenticeship programme delivered by CILEx Law School. She is now able to draft letters and statements, prepare papers for court hearings and take instructions from clients under supervision. She is a valued member of our team."
To find out how your firm could benefit from the Advanced Apprenticeship in Legal Servicesplease contact Jenny Pelling, Business Director, on 01234 844326.