CILEx Graduate Fast-track Diploma
The CILEx Graduate Fast-track Diploma (GFTD) is the qualification for law graduates who wish to complete the academic part of the Chartered Legal Executive qualification. You are also eligible if you hold a non-law degree and have studied for a Graduate Diploma in Law (GDL). Achieving the Diploma leads to Graduate Membership of the Chartered Institute of Legal Executives (CILEx).
Using the Chartered Legal Executive route to become a lawyer
Having your law degree/GDL means that you do not need to study any more law subjects. You just need to acquire the legal practice and professional skills elements of the qualification. To become a Chartered Legal Executive you must also satisfy the qualifying employment requirements which are covered in the 'How to qualify as a Chartered Legal Executive' section.
If you are already working as a paralegal, it is highly likely that your current employment will count towards the required three-year period of qualifying employment. One year of the three-year period must take place after all exams are completed.
What will I study?
The CILEx Graduate Fast-track Diploma is made up of:
Two practice units
You will need to complete two CILEx Level 6 practice units. One of the practice units must link to a law unit that you have studied as part of your degree/GDL.
One professional skills units
You will need to do one Level 6 professional skills unit:
Practice areas
If you need advice on subject selection at Level 6 do not hesitate to call us on 01234 844300. Once you have passed all your exams you can apply for Graduate Membership of CILEx.
The chart below shows the available practice areas: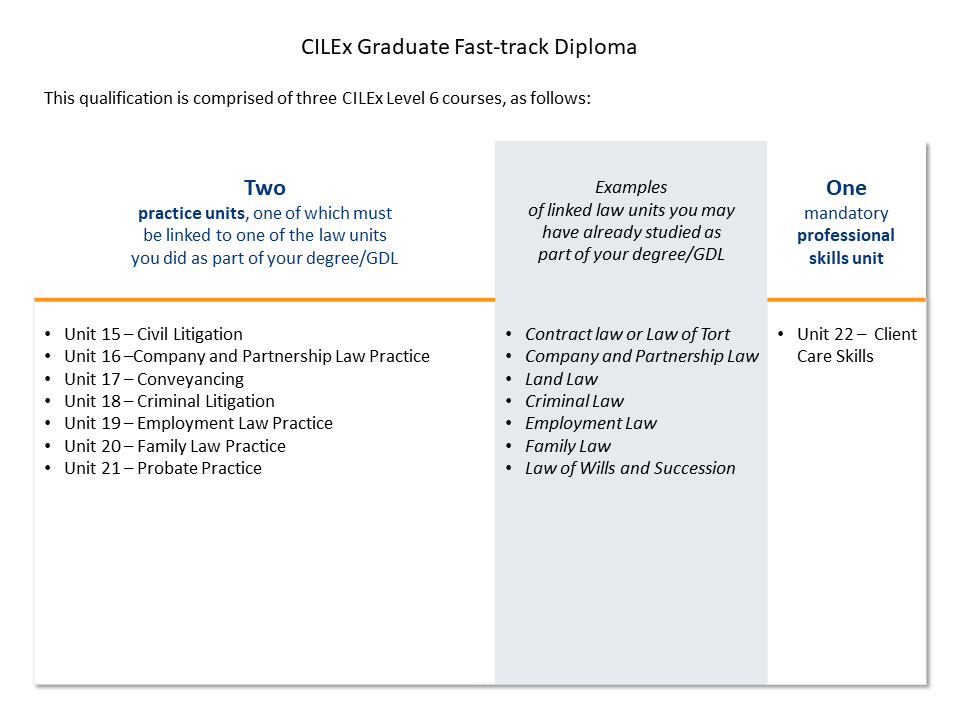 How long will it take?
You can enrol on courses with CILEx Law School at any time of year and each of the three courses is valid for 15 months from enrolment. There are two exam sessions per year, one in January and one in June, and you can select which one of these you want to work towards. Many students do one practice exam in one session and the other in the next session, for example.
You can expect to complete all three courses within 9-15 months, depending on the amount of time you have available to allocate to studying. Ideally, alongside your study, you should seek paralegal work which meets the requirements for CILEx's qualifying employment, so that you are working towards achieving that element of the Chartered Legal Executive qualification at the same time.
CILEx membership and exam fees
Planning your studies
Our trained Customer Service Advisors can help you decide how to tailor the qualification just for you. Not only can they advise on subject selection, but they can also help you to decide on the number of courses you should enrol on at one time. Most members of our Customer Service Team have studied our distance learning CILEx courses and so they can advise you from personal experience.