CILEx Level 6 Professional Higher Diploma in Law and Practice
The CILEx Level 6 Professional Higher Diploma in Law and Practice is the second stage of Chartered Legal Executive training and is appropriate for those who have achieved the CILEx Level 3 Professional Diploma in Law and Practice.
Law graduates seeking to study the academic requirements towards qualifying as a Chartered Legal Executive should instead study the CILEx Graduate Fast-track Diploma.
What will I study?
To achieve the CILEx Level 6 Professional Higher Diploma in Law and Practice, you need to study six subjects in total:
Three law units
You select three law units, one of which must be linked to your practice unit. The other two are law units of your choice. You can select from the following:
One practice unit
You select one practice unit, which must be linked to one of your law units (linked law units are indicated in brackets), from the following options:
Two professional skills units
Both of these units are mandatory:
Which legal practice unit should I choose?
By the time you are working towards the second stage of your Chartered Legal Executive training it is likely that you will know the legal practice area in which you want to specialise. If you are not yet working in a legal environment, then we recommend that you choose the legal practice subject that you enjoyed most at Level 3, unless local employment opportunities lie in another legal practice area. The chart below provides an overview of the combinations available.
Once you have passed all your exams you can apply for Graduate Membership of CILEx.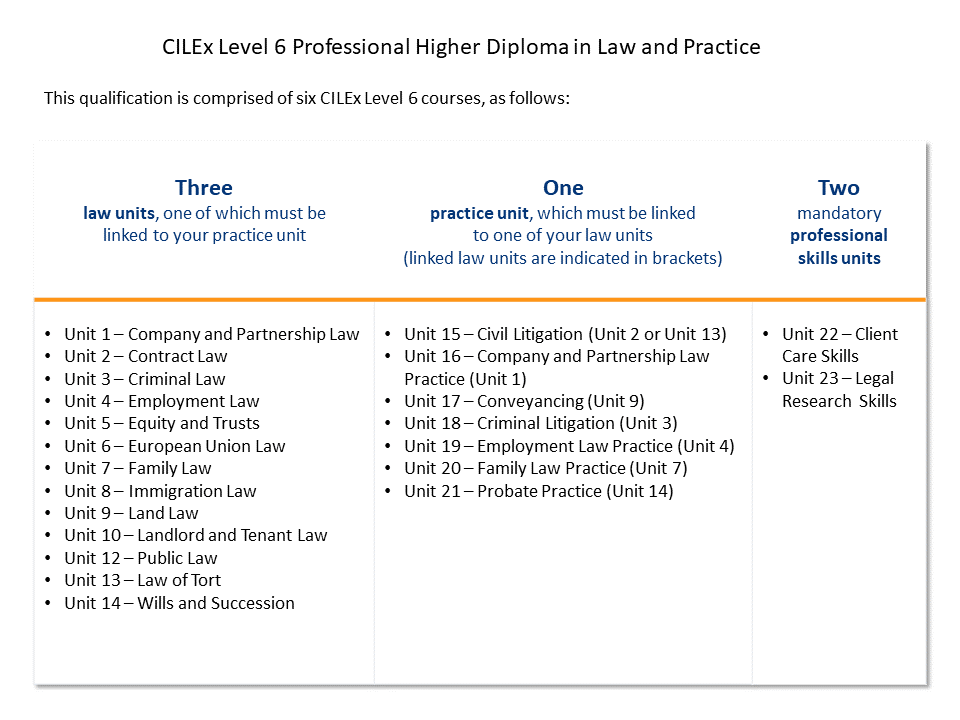 Course information
Our CILEx courses are delivered by supported distance learning, and you can enrol on any course at any time of year. You will benefit from a wide range of support every step of the way.
Learner support information
CILEx Law School is committed to the provision of accessible learning and ensuring that all students are afforded equal opportunities throughout their studies. If you require reasonable adjustments in relation to a disability, health condition or learning difficulty, or if you would like additional information, please email our Learner Support Advisor (LSA) at clslearnersupport@cilexlawschool.ac.uk
If you hold a qualifying law degree or GDL you are exempt from part of the academic components of the Chartered Legal Executive training. If you hold an LPC and/or BPTC, you will benefit from additional exemptions. You should contact CILEx in the first instance to confirm any exemption you wish to claim. Additional information on exemptions is given on the How our courses work page.
Qualification
Description
Exemption
Qualifying Law Degree

CPE / GDL / PGDL

Students who have achieved a qualifying (designated as qualifying by the SRA) law degree and wish to progress on to the CILEx Graduate Fast Track Diploma to qualify for Graduate Membership of CILEx (GCILEx)
Level 3 Diploma in Law and Practice, and the Law units from the Level 6 Diploma in Law and Practice.

Note: students with a qualifying law degree seeking to use the Graduate Fast Track Diploma to gain access to membership of CILEx, it is a requirement that at least one of the Practice units attempted is in an area of law that was a constituent part of their law degree.

Legal Practice Course (LPC) or Bar Professional Training Course (BPTC)
Full exemption from the CILEx qualifications to become a Graduate Member of CILEx.
CILEx membership and exam fees
Planning your studies
Our trained Customer Service Advisors can help you decide how to tailor the qualification just for you. Not only can they advise on subject selection, but they can also help you to decide on the number of courses you should enrol on at one time. Most members of our Customer Service Team have studied our distance learning CILEx courses and so they can advise you from personal experience.