Webinar Presenter Bio: Lorraine Richardson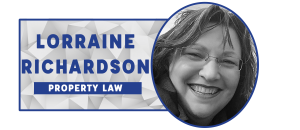 In a Covid-19 world, conveyancing is a fast-moving area.  This practical one-hour webinar will refresh the CILEx 'Land Law and Conveyancing Update' and in addition will cover:
Key HMLR changes and risks
HMLR and electronic signatures
The importance of notices to complete
About Lorraine Richardson M. A. (Cantab)
"Guru offering practical, intelligent guide to conveyancing challenges – comprehensive, comprehensible and GAGS … highly recommended … "
James Pirrie (Director, Family Law in Partnership Ltd & former Board member Resolution)
Lorraine is an experienced property solicitor and trainer who is a popular conference and CPD speaker.  Lorraine is now freelance but when in practice she ran a branch office and was a partner and the COLP for her firm.
She also designs and delivers property and legal skills related courses and on line materials including Conveyancing Quality Scheme training for the Law Society.
Lorraine has developed a skill for writing and delivering webinars and aims to produce work that is both interesting and accessible for the viewer.  Lorraine is the major writer for the monthly update journal for practitioners, the 'Practical Lawyer.'
Lorraine has set up her own company and offers property related courses and webinars and a membership scheme for firms to access her webinars and personalised conveyancing training at a discount –  www.adaptlaw.co.uk
Linked In Profile – https://www.linkedin.com/in/lorraine-richardson-a59753163/