Webinar Presenter Bio: Natasha Isaac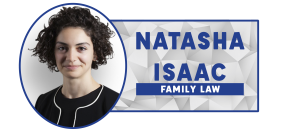 Natasha is a member of chambers at 1 Crown Office Row, Brighton. She joined chambers in 2019 after successful completion of her pupillage. Natasha receives instructions across all of chambers' practice areas and is developing a broad family law-based practice. She has represented clients at all stages of financial remedy proceedings, including clients making or resisting applications to join third parties to proceedings. Natasha also accepts instructions in private law children cases in relation to Child Arrangements, Specific Issue and Prohibited Steps Orders.
Natasha has recently coordinated seminars on topics such as: Economic Abuse and Faith & Domestic Abuse, the latter being available online here: https://www.1cor.com/brighton/2020/07/10/domestic-abuse-in-faith-communities-with-natasha-isaac-anogika-souresh-and-special-guests/ .
Natasha is training to be a mentor for the Girls' Network and is a trustee of the Jewish Orthodox Feminist Alliance (UK).