CILEX Certificates in Legal Practice
The CILEX Certificate in Legal Practice is an introductory legal qualification which creates entry and advancement opportunities in legal work.
If you are not in legal work but wishing to explore that option, or you are in a junior role (e.g., legal assistant) and wanting to increase your legal knowledge for your development, a CILEX Certificate in Legal Practice is a low-cost training opportunity for you.
These certificates also support paralegal apprentices and provide the opportunity to achieve a qualification alongside an apprenticeship.
We currently offer the following Certificates:
CILEX Certificate in Conveyancing Practice
CILEX Certificate in Civil Litigation Practice
CILEX Certificate in Criminal Law Practice
So, if you are thinking about getting into law, are working in law and wanting to progress your legal expertise or are currently doing a paralegal apprenticeship and wanting to get a qualification as well, then this is the route for you. And if you are an employer wanting to upskill cohorts of your workforce, then this could be a good option for you too.
Structure

The CILEX Certificate in Legal Practice introductory paralegal qualification will consist of: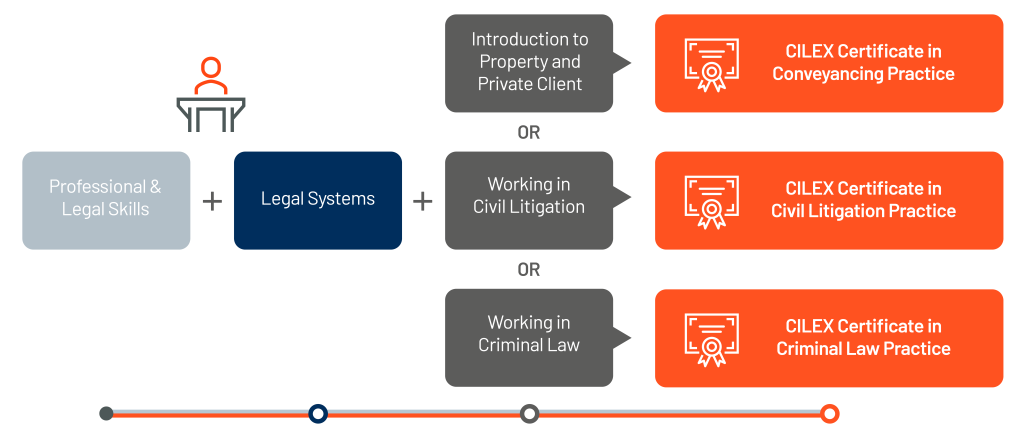 Pricing and how to purchase
Students intending to study for a CILEX Certificate in Legal Practice will first need to become a CILEX member (if you aren't already). Then you can register with CILEX for an initial fee of £450. This will give you access to a full set of online learning materials as well as the ability to book onto your exams.
You will then need to find and register with a training provider to receive relevant instruction.
Indicative costs to qualify are shown in the table below:
| CILEX Fee* | Course fee | Total cost to qualify |
| --- | --- | --- |
| £450 | £1,680 | £2,130 |
*Includes learning resources and assessments. Excludes annual student membership which varies according to membership level.
Progression to CILEX Professional Qualification (CPQ)
On completion of a CILEX Certificate in Legal Practice, you will be able to progress onto CPQ Foundation stage via a transition product. Your CILEX Certificate will entitle you to exemptions from two or more CPQ Foundation stage module exams, allowing you to embed your expertise and attain CILEX Paralegal status