The premier partner for your CPQ studies
The recently launched CPQ is a ground-breaking new qualification framework offering a clear, staged pathway for aspiring and practicing legal professionals who want to combine legal education with a working role.
CPQ's three stages – Foundation, Advanced and Professional – allow you to take your professional development as far and as fast as you want to, progressively building and evidencing your growing knowledge and competencies.
While traditional routes focus on academic qualifications, the CILEX CPQ route combines technical excellence with practical skills and work-based learning, delivering legal professionals at all levels who are ready and able to make an impact and add value in the workplace.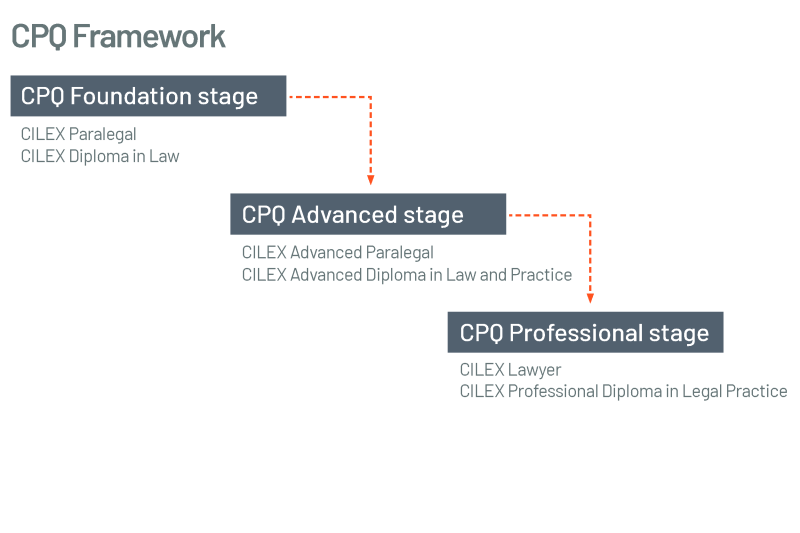 Studying CPQ, you will gain a broad foundation in law while also enjoying opportunities to begin to specialise earlier than with other qualification routes. That means you can focus on acquiring the skills and knowledge that are most directly relevant to you and your employer.
As you progress through CPQ, you'll be able to use professional designations equivalent to your stage of qualification: CILEX Paralegal, CILEX Advanced Paralegal and CILEX Lawyer. If you decide to progress all the way through CPQ, as a CILEX Lawyer, you'll be eligible to gain practice rights in a range of legal specialisms and operate at the same level and with the same status as a solicitor.
" The new CILEX Professional Qualification pathway is a more modern approach to gaining legal qualifications right through to becoming a lawyer with full practice rights. They reflect the needs of learners and law firms alike and the new levels more accurately reflect the roles that people undertake in law firms."